Madame Crumpet
Inspired by the classic Croque Madame, this Madame Crumpet is the tastiest brunch you'll ever make!
Just to make sure we're all on the same wave length, a Croque Madame is essentially a hot toasted ham and cheese sandwich with a fried egg on top. It's got French origins and was first seen around Cafes in Paris. Today we're making it crumpet style in the most delicious way possible! Follow me…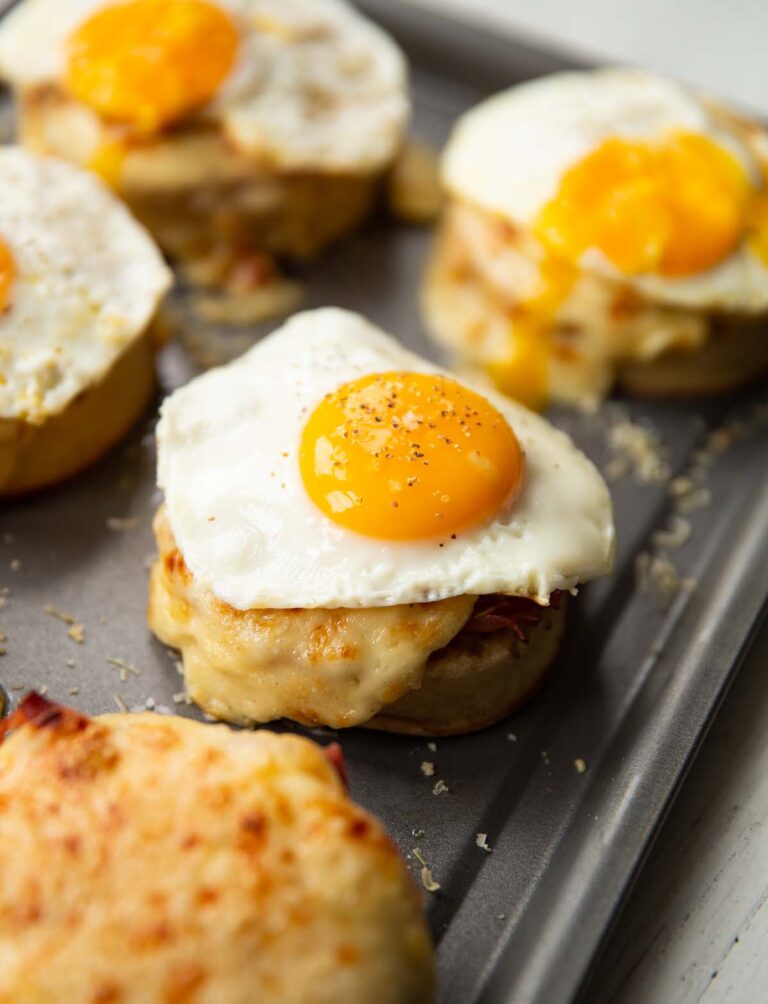 Béchamel Sauce
One of the most iconic layers of a Croque Madame is the béchamel sauce, and this crumpet version is no exception. Here's what you'll need:
Butter, Flour, Milk – AKA a 'roux'. This is to form the the base of the béchamel sauce.
Gruyere – This has got a sweet nutty flavour which takes this layer through the roof!
Nutmeg – This brings out the nutty tones of the gruyere.
White Pepper – White pepper is a classic addition to béchamel because it blends in better than black pepper.
You actually want this to be fairly thick, since you'll be spread it over the crumpets. Too thin and it'll just drip off!
Process shots: melt butter (photo 1), stir in flour to form paste (photo 2), stir in gruyere (photo 3), stir in seasoning (photo 4).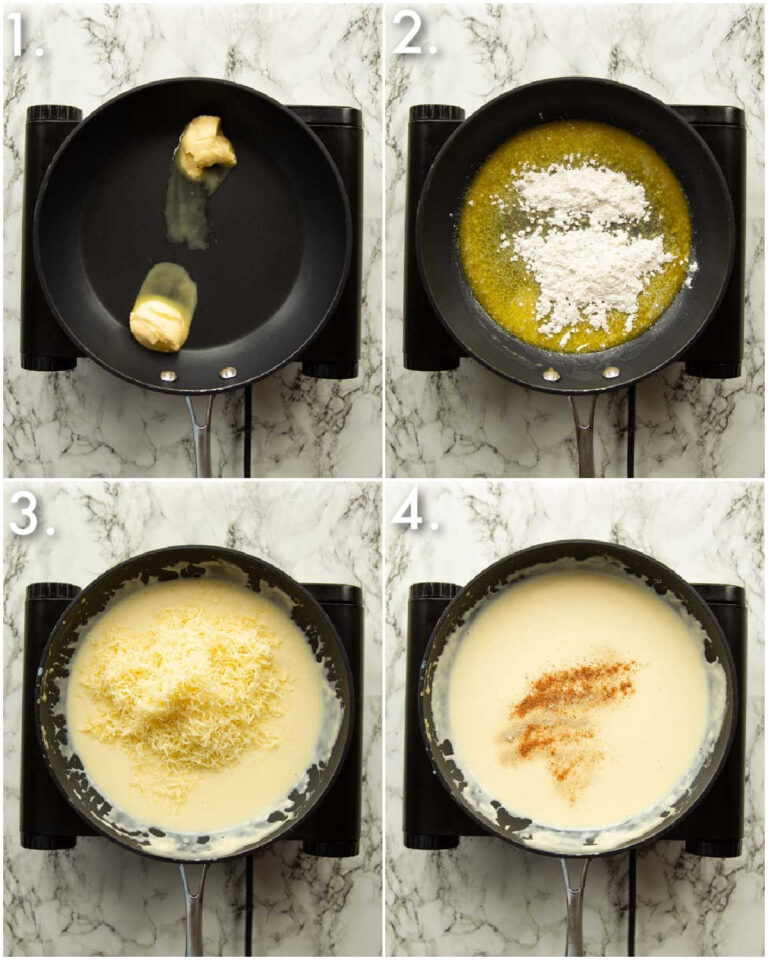 Madame Crumpet
Okay, here's where things get fun. Sure, if we're talking technically this should really be called a 'Crumpet Madame', but 'Madame Crumpet' sounds a whole lot sassier and you know it 😂 Also no, this isn't a sandwich either, but that's beside the point.
Madame Crumpet Layers
Crumpet – Toasted in a toaster or either side under the grill.
Butter – Mix butter with dijon mustard. Dijon is a key component of a classic Croque, the butter helps mellow it out and also helps it seep/melt into the crumpet.
Ham – Fold/tear it to fit neatly on the crumpet.
Béchamel – Plonked straight on top of the ham.
Parmesan – This helps it go golden, bubbly and delicious!
Process shots: toast crumpets then spread with dijon butter (photo 1), add ham (photo 2), add béchamel (photo 3), add parmesan then cook under the grill until golden (photo 4).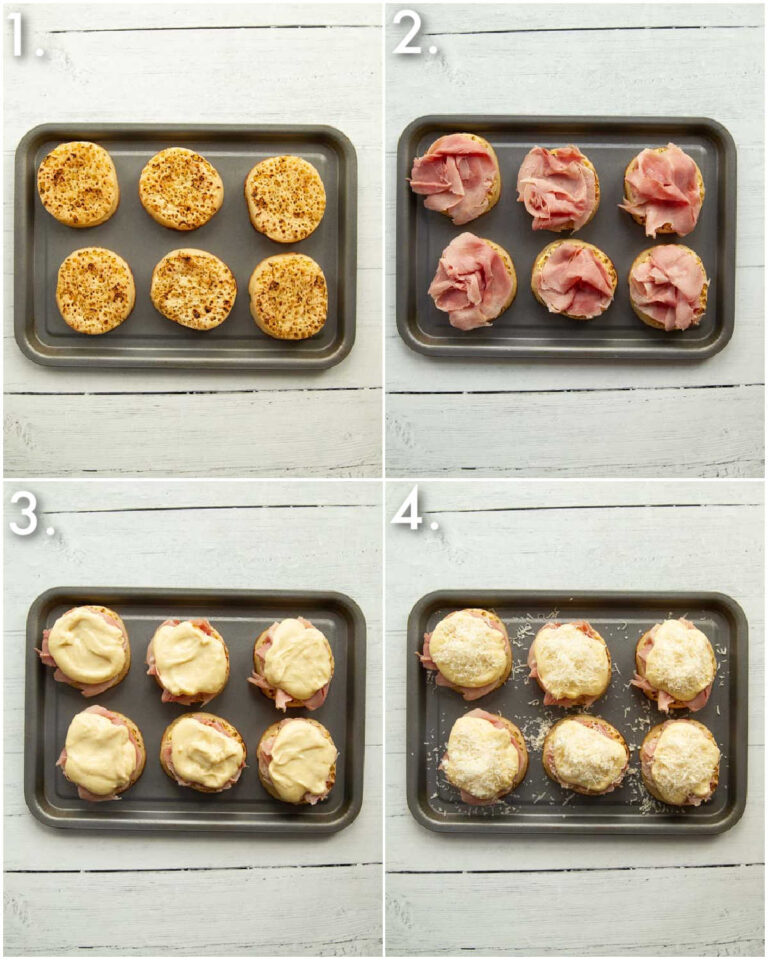 Don't forget the egg!
One of the key ingredients in a Croque Madame is the fried egg on top. You can cook it to preference, but I like mine sunny side up, just for all that yolky goodness.
Do I have to add an egg?
I do recommend it as this crumpet version is pretty brunchy. However you can leave it off like a Croque Monsieur if you'd prefer.
Process shots: melt in butter (photo 1), fry eggs then season with salt and pepper (photo 2).
Serving Madame Crumpet
As I mentioned, I usually serve these for Brunch, typically by themselves but you could add some Hash Browns if you wanted to go wild!
If you're after another fun breakfast recipe with a twist, check out my Breakfast Quiche Stuffed Bagels!
Or check out my Croque Monsieur for the real deal!
Alrighty, let's tuck into the full recipe for the might Madame Crumpet shall we?!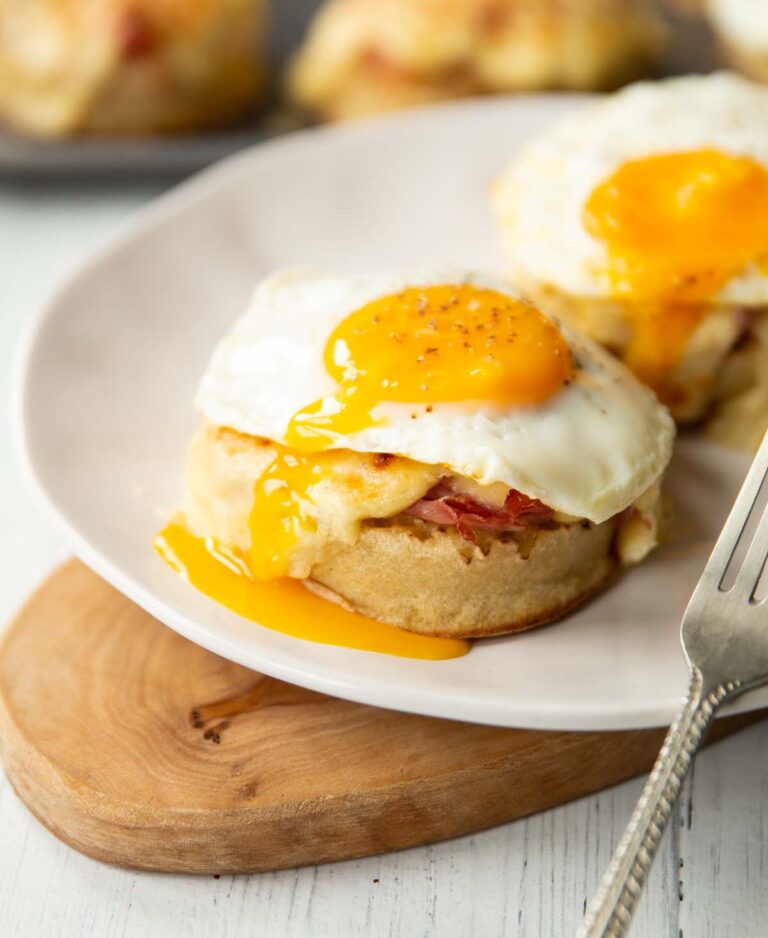 How to make Madame Crumpets

 (Full Recipe & Video)
Madame Crumpet
Inspired by the classic Croque Madame, this Madame Crumpet is the tastiest brunch you'll ever make!
Equipment
Large Baking Tray

Medium Non-Stick Pan, Whisk & Wooden Spoon (for bechamel)

Large Non-Stick Pan & Spatula/Turner (for eggs)

Small Pot (for dijon butter)

Fine Cheese Grater

Toaster (optional, can use grill)
Ingredients
6

Crumpets

6

Eggs

6

slices of

Ham

1 cup / 240ml

Milk, at room temp

3/4 cup / 75g

Gruyere, finely grated

1/3 cup / 30g

Parmesan, finely grated

5

tbsp

Butter

2

tbsp

Flour

1

tsp

Dijon Mustard

1/8

tsp EACH:

White Pepper, Nutmeg
Salt, to taste
Instructions
In a small pot combine 2 tbsp butter with 1 tsp dijon mustard. Place to one side.

In a non-stick pan over medium heat melt in 2 tbsp butter. Stir in 2 tbsp flour to form a paste, then gradually add in milk, whisking as you go to ensure no lumps form. Once thickened, turn heat to low and stir in gruyere, then season with nutmeg, white pepper and salt. Remove from heat.

Toast crumpets in a toaster or under the grill, then spread with the dijon butter (don't feel like you have to use it all). Top with ham, then spread over the béchamel sauce. Top with parmesan then place under the grill under golden and bubbly.

Whilst they're cooking, melt 1 tbsp butter into a pan over medium heat and crack in eggs (you may need to do this in batches). Fry to desired texture then season with salt and pepper.

Top crumpets with an egg each then tuck in and enjoy!
Notes
a) Do I have to add an egg? – Nope! You can make a Monsieur Crumpet instead and leave it off. I do recommend it though, just for that yolky goodness 🙂
b) Gruyere – I highly recommend using Gruyere, not only is it most traditional in a Croque Madame, but it's got a gorgeous nutty flavour that goes amazingly in a bechamel sauce. If you don't have it, you can sub Cheddar.
c) Calories – Per Madame Crumpet:
Nutrition
Calories:
342
kcal
|
Carbohydrates:
18.13
g
|
Protein:
20.27
g
|
Fat:
20.65
g
|
Saturated Fat:
10.158
g
|
Polyunsaturated Fat:
1.868
g
|
Monounsaturated Fat:
7.151
g
|
Trans Fat:
0.103
g
|
Cholesterol:
230
mg
|
Sodium:
850
mg
|
Potassium:
321
mg
|
Fiber:
0.9
g
|
Sugar:
3.56
g
|
Vitamin A:
733
IU
|
Vitamin C:
0.1
mg
|
Calcium:
288
mg
|
Iron:
2.03
mg
---
If you loved this Madame Crumpet Recipe then be sure to Pin it for later! Already made it or got a question? Give me a shout in the comments and pick up your free ecookbook along the way!
The post Madame Crumpet appeared first on Don't Go Bacon My Heart.